Our lunch menu is served between 11.30-15.00
---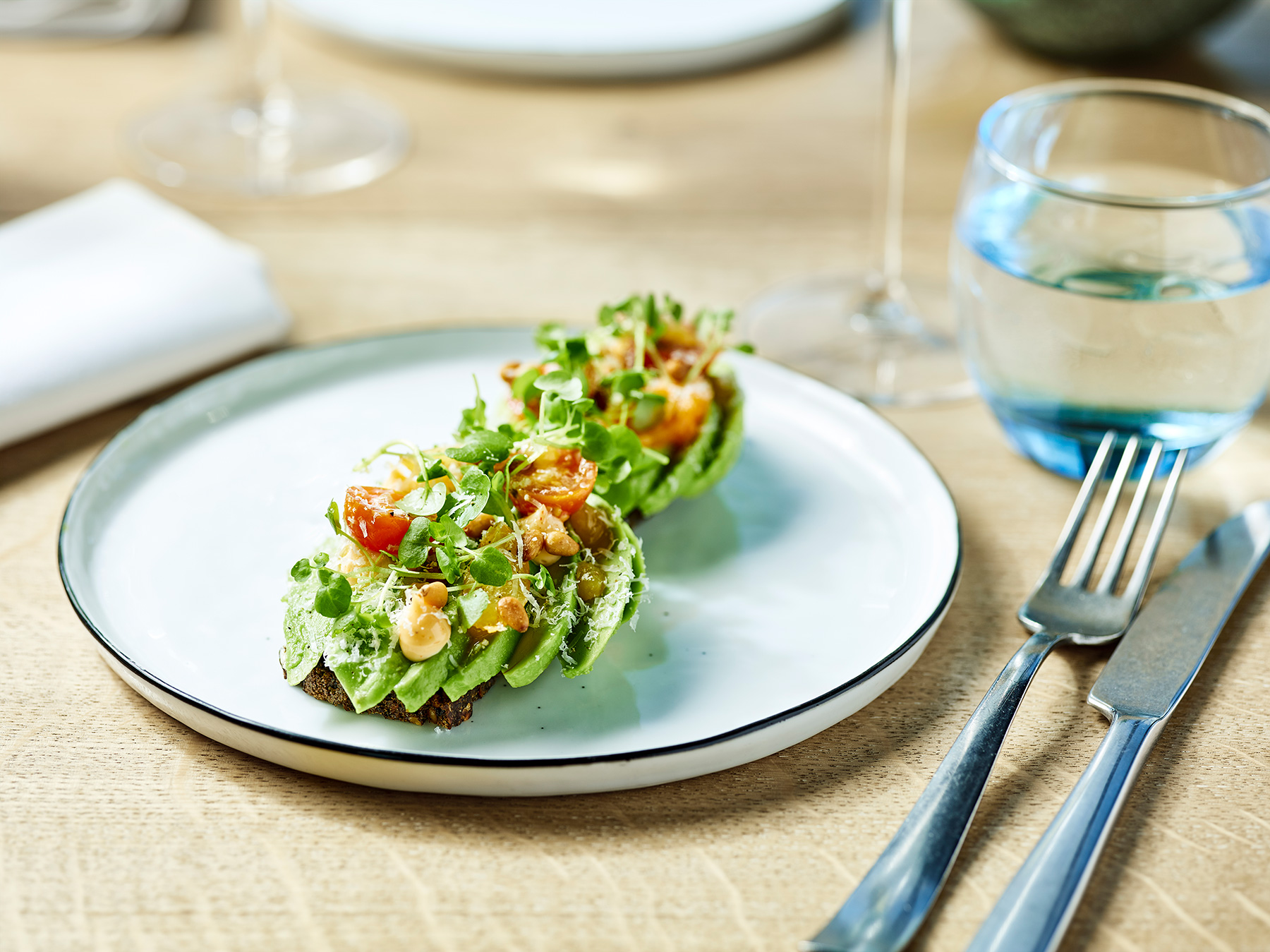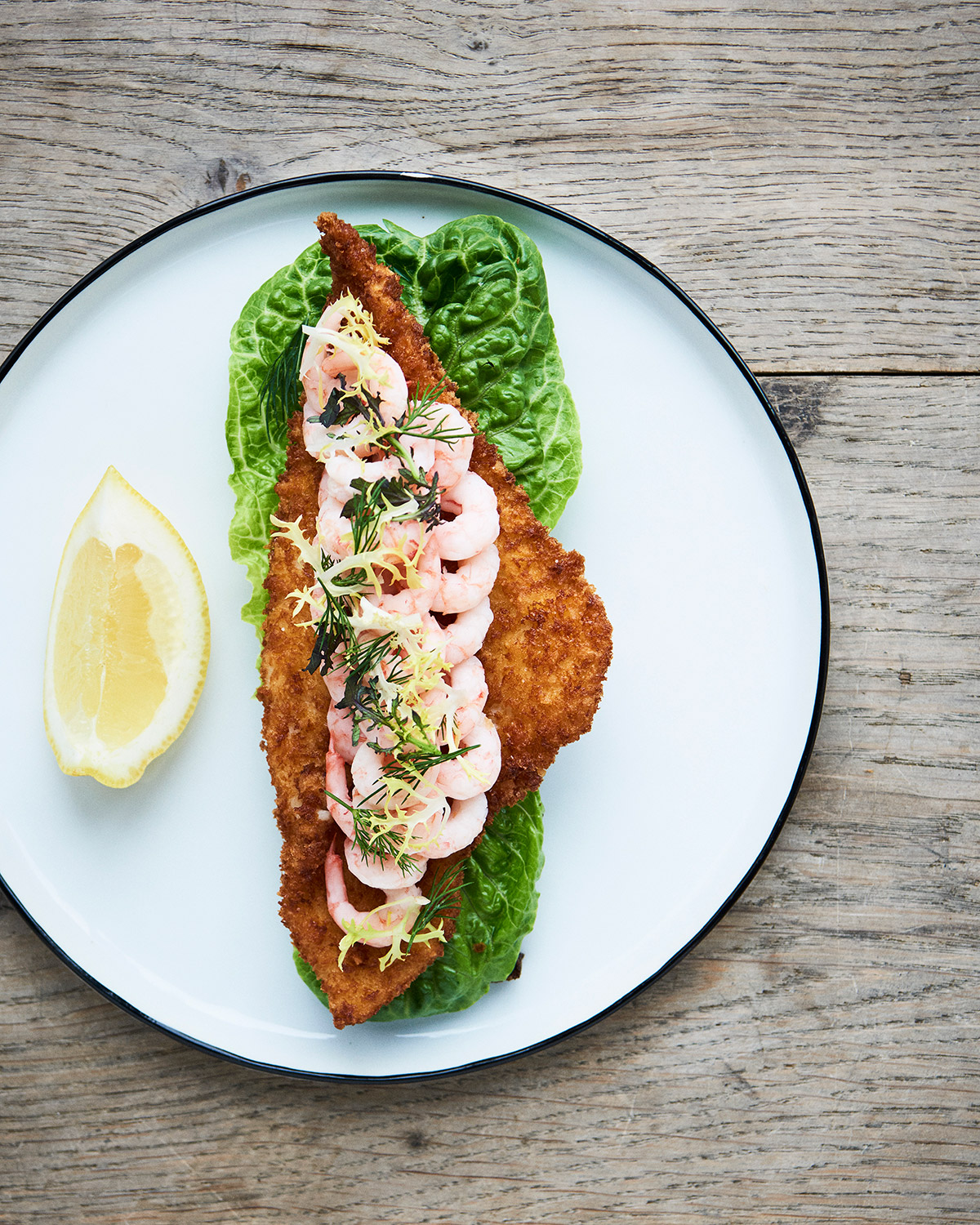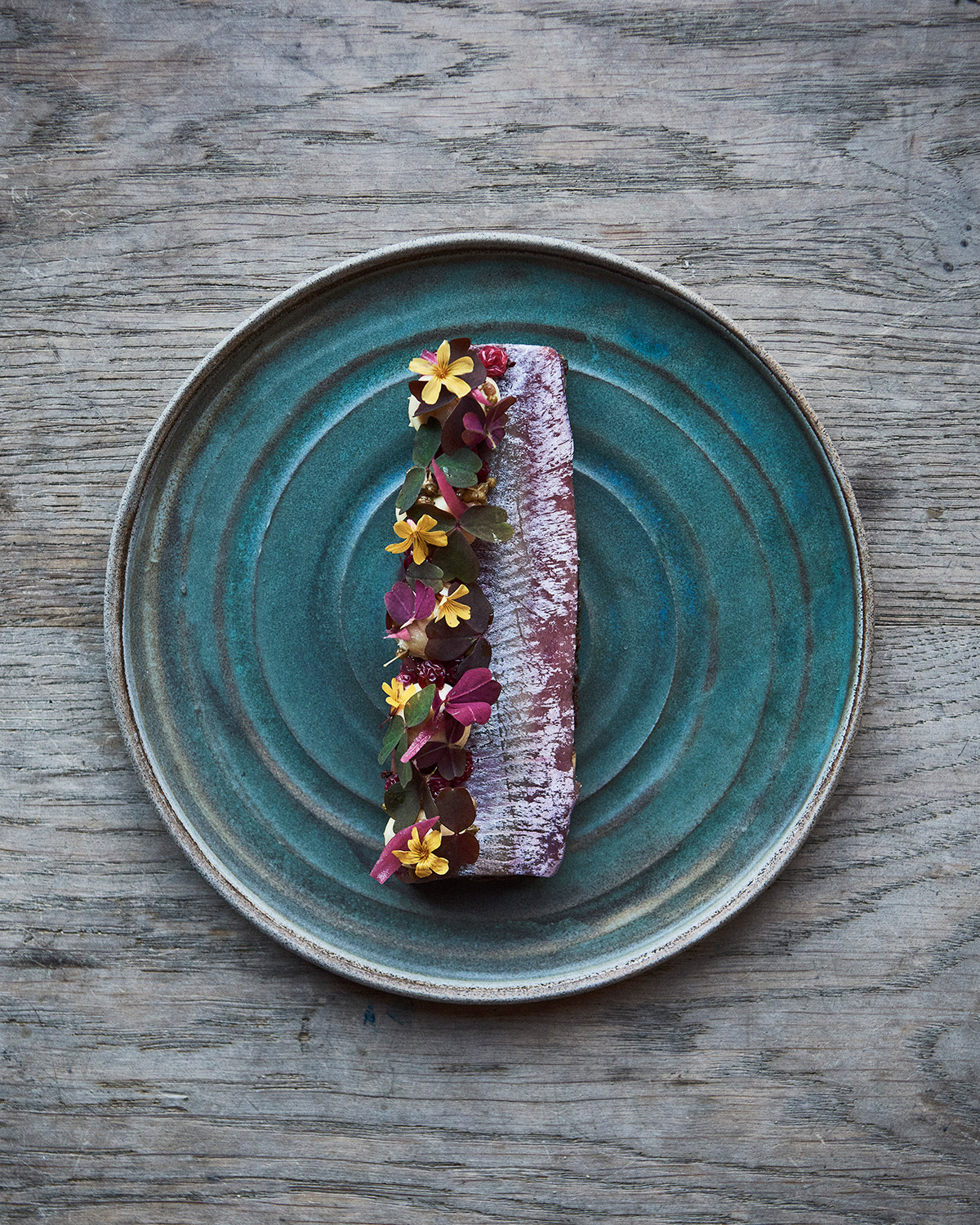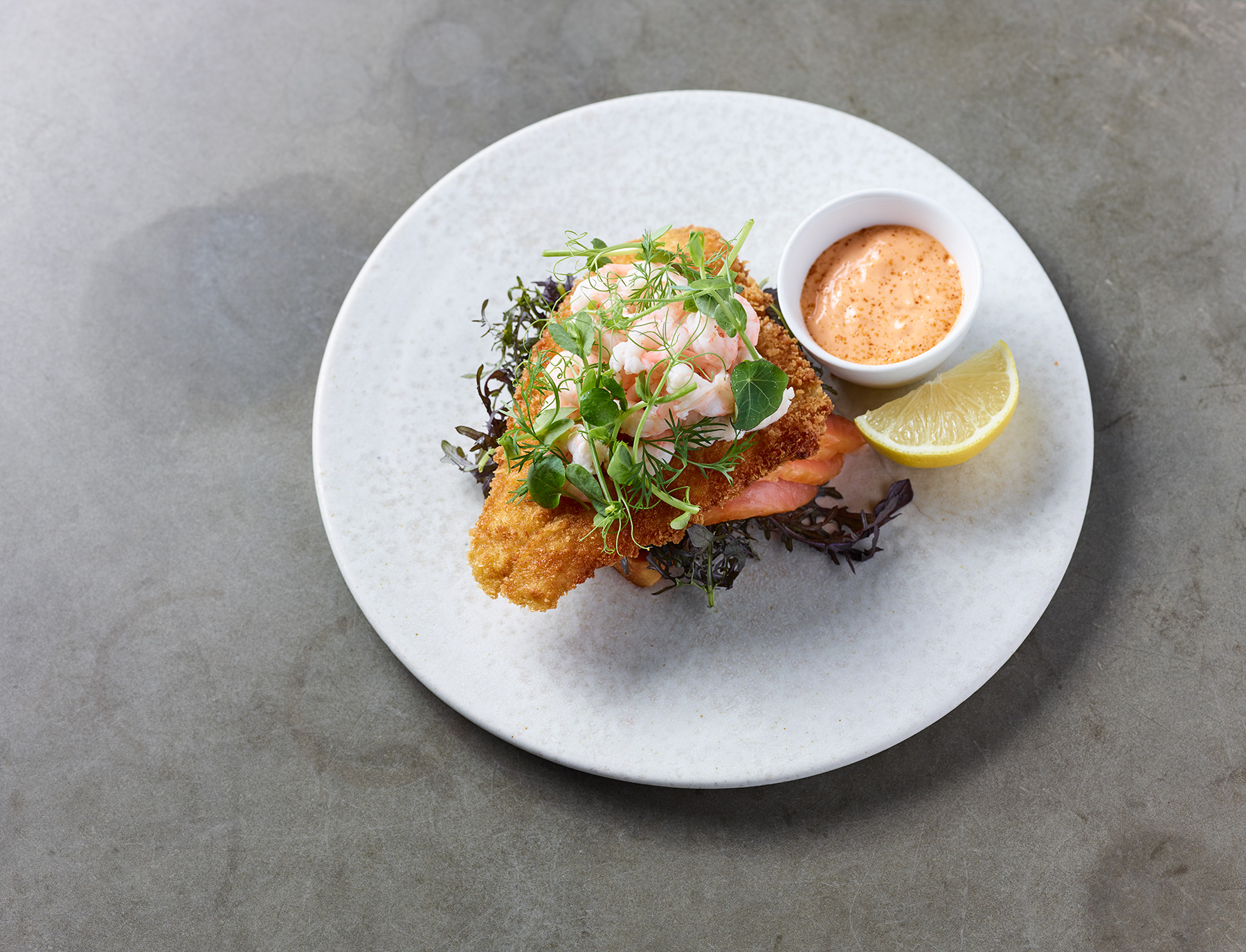 ---
DANISH OPEN SANDWICHES

REMEMBER – Remouladens Danish open sandwiches
can also be ordered as Take Away
Herring with curry salad, quail egg, capers, apple & c
110,-
Christmas herring with long pepper, bacon, kale, pickles & raw onions
110,-
Rosehip rose herring with smoked onion mayo, currants & rosehip capers
110,-
Braised celery with pickles celery, cabbage & mushroom sauce
95,-
Smoked salmon, dehydrated egg yolk, kale & fennel crudité
120,-
Crayfish salad with eggs, tapioca & grilled lemon
110,-
Crispy fish fillet with hand-peeled shrimp & beurre blanc with pickled vegetables
135,-
Crispy fish fillet with beurre blanc with pickled vegetables
115,-
Pork breast with red cabbage, cranberries, pork rind, chips & gravy
125,-
Tartar of beef with truffle butter, fried egg, red onion & smoked mayonnaise
125,-
"Høgelundgaard" blue cheese with pickled figs, yellow raspberries, fresh hazelnuts & the world's best honey
100,–
Christmas at Remouladen
Christmas herring with long pepper, apple pork, kale & onion
Pork breast with red cabbage, cranberries, pork rind, chips & Danish brown gravy
Risalamande with vanilla ice cream, almonds & cherry sauce
Kr. 275,-
---
Á la carte

Caviar with blinis, sour cream, cress & red onion
10 gram Lyksvad Baerii caviar 375,–
30 gram Lyksvad Baerii caviar 595,-
Danish Limfjord oysters – choose between:
-Au naturelle with lemon
-Lightly smoked with "sea foam"
-"Bloody Mary"
-Redwine vinaigrette
1 pc. Kr. 50,-
3 pcs. Kr. 145,-
"Stjerneskud"
White bread served with breaded fish fillet, steamed fish, Faroese salmon & hand-peeled shrimps
Kr. 195,-
"Pariserbøf"
Chopped steak with beetroot, pickles, red onion, capers, horseradish & egg yolk
Kr. 195,-
Braised celery in bbq with marinated endive, roasted chickpeas, butter beans & lightly smoked haydari
Kr. 165,-
Tatar of beef with chips & aioli
Kr. 185,-
Crispy confit of duck with kale, red currant berries, chips & aioli
Kr. 175,-
Ribeye steak with chips & sauce bearnaise
Kr. 295,-

Risalamande with vanilla ice cream, almonds & cherry sauce
Kr. 95,-
Selection of cheese
4 pcs. Kr. 155,-
Extra + Kr. 25,-/pcs.
Crème Brûlée with Tahiti vanilla & sorbet
Kr. 95,-
Cake of the day
Kr. 75,-
Home made petit fours
Kr. 45,-
Commercial cards and some private cards will be surcharged with a fee, which will be shown on your receipt.
The fee rate may vary depending on the type of card and country of origin.


FOR KIDS UNDER 12 YEARS
Remouladens crispy fish fingers with chips
kr. 85,-
"Steak bearnaise" – steak of minched beef with chips, sauce bearnaise & ketchup
kr. 85,-
Crispy fish fillet with rye bread & "remoulade"
kr. 85,-
Mini burger served with chips
kr. 110,-
Vanilla ice cream with warm chocolate sauce
kr. 45,-


All hot children courses are served with vegetablesticks & dip, as a side.
All children courses are "kids size" and are smaller than the "adult version".
All other courses from the menu can be made in 1/2 size to kids under 12 years.

VINKORT
Bobler
2008 Amour de Deutz Rosé, Champagne
Bottle 2.195,-
PNZV15 Bollinger, Champagne
Bottle 1495,-
2009 Blanc de Blancs Amour de Deutz
Bottle 1850,-
2012 Bollinger La Grande Année
Bottle 1495,-
NV Rosé Prestige Premier Cru, Duval-Leroy, Champagne
Bottle 850,-
2010 Blanc des Blancs Cuvée des M.O.F. Sommeliers, Duval-Leroy
Bottle 750,-
NV Champagne Intense MAG15, AR Lenoble
Bottle 650,-
NV Cava Brut Reserva, Segura Viudas
Bottle 345,-
Hvidvin
2017 Zeppwingert Réserve Riesling, Weingut Immerich-Batterieberg, Mosel
Bottle 1495,-
2018 Loimer Grüner Veltliner, Kamptal
Bottle 495,-
2018 Riesling "Vom Vulkan" Schlossböckelheimer, Gut Hermannsberg, Nahe
Bottle 495,-
2019 Win Win, Riesling, Von Winning, Pfalz
Bottle 375,-,-
2018 Klumpp Weissburgunder, Baden, Tyskland
Bottle 395,-
2017 Meursault 1er Cru Blagny, Antoine Jobard, Bourgogne
Bottle 1250,-
2018 Chablis Grand Cru Les Clos, Dom. J. Collet, Bourgogne
Bottle 1200,-
2016 Meursault 1er Cru Les Vireuils, Bernard Moreau et Fils, Bourgogne
Bottle 1025,-
2018 Saint-Aubin Derriére Chez Édouard, Antoine Jobard, Bourgogne
Bottle 995,-
2018 Chablis Grand Cru Les Preuses, Dom. Seguinot-Bordet, Bourgogne
Bottle 995,-
2017 Chassange-Montrachet 1er Cru, Morgeot, Bachey-Legros, Bourgogne
Bottle 975,-
2017 Chablis 1er Cru Les Forets, Dom. J. Collet, Bourgogne
Bottle 595,-
2017 Pouilly-Fuissé, Roc des Boutires, Bourgogne
Bottle 575,-
2017 Sancerre Chavignol, Domaine Delaporte, Loire
Bottle 495,-
2018 Pouilly-Fumé, Serge Dagueneau, Frankrig
Bottle 495,-
2017 Pinot Gris Herrenweg Vieilles Vignes, A. Hurst, Alsace
Bottle 495,-
2019 Rioja blanco, Vivanco, Spanien
Bottle 375,-
2019 Verdejo, 12 Linajes, Rueda, Spanien
Bottle 395,-
2019 Roero Arneis, Bel Colle, Piemonte, Italien
Bottle 395,-
2015 Kistler Chardonnay, Vine Hill Vineyard, Russian River Valley, USA
Bottle 1395,-
2016 Palladius, The Sadie Family, Swartland, Sydafrika
Bottle 1250,-
2016 Jennifer's Chardonnay, Hartford Court, Russian River Valley, USA
Bottle 1200,-
2019 lange Riesling, G.D. Vajra, Piemonte, Italien
Bottle 850,-
2015 Chardonnay Reserve, Seresin, Marlborough, New Zealand
Bottle 575,-
2018 Sauvignon Blanc, Fern Ridge, Marlborough, New Zealand
Bottle 375,-
Rødvin
2018 Latriciéres-Chambertin Grand Cru, Launay-Horiot
Bottle 2000,-
2018 Clos de la Roche Grand Cru, Remi Jeanniard
Bottle 1495,-
2016 Corton Grand Cru, Pierre Guillemot
Bottle 1295,-
2017 Chambolle-Musigny, Christian Clerget
Bottle 1100,-
2017 Gevret-Chambertin "champ", Domaine Duroché
Bottle 995,-,-
2016 Morey-Saint-Denis 1er Cru Clos des Ormes, G. Lignier
Bottle 995,-
2016 Château Talbot 5. Cru Saint-Julien (MAGNUM)
Bottle 1995,-
2006 Château Pontet-Canet 5. Cru Pauillac
Bottle 1595,-
2015 Château Pape Clément, Grand Cru Classé De Graves, Pessac-Léognan
Bottle 1495,-
2016 Gruaud Larose 2. Cru Saint-Julien
Bottle 1300,-
2010 Château Gruaud Larose 2. Cru Saint-Julien
Bottle 1250,-
2003 Château Branaire-Ducru 4. Cru Saint-Julien
Bottle 1250,-
2015 Château Gruaud Larose 2. Cru Saint-Julien
Bottle 1195,-
2011 Château Gruaud Larose 2. Cru Saint-Julien
Bottle 1050,-
2016 Château Kirwan 3. Cru Margaux
Bottle 995,-
2009 Ségla 2. vin Château Rauzan-Ségla, Margaux
Bottle 850,-
2015 Clos René, Pomerol
Bottle 750,-
2015 Château Du Breuil, Haut-Médoc
Bottle 495,-
2016 Châteauneuf-du-Pape "Secréte", Domaine Solitude
Bottle 1195,-
2017 Châteauneuf-du-Pape "Barberini", Domaine Solitude
Bottle 995,-
2017 Châteauneuf-du-Pape, Domaine Solitude
Bottle 795,-
2015 Cornas Terres Brulées, Jean-Luc Colombo
Bottle 795,-
2018 Sancerre rouge Chavignol, Domaine Delaporte, Frankrig
Bottle 495,-
2016 Spätburgunder, BattenfeldSpanier, Rheinhessen, Tyskland
Bottle 385,-
2017 Gumpoldskirchen Pinot Noir, Loimer, Niederösterreich, Østrig
Bottle 545,-
2014 Sassicaia, Tenuta San Guido, Bolgheri
Bottle 1850,-
2013 Giorgio Primo, La Massa, Toscana
Bottle 995,-
2013 Guado al Tasso, Antinori, Bolgheri
Bottle 1195,-
2015 Tignanello, Antinori, Toscana
Bottle 1195,-
2015 Barolo Bricco delle Viole, G.D.Vajra, Piemonte
Bottle 1100,-
2015 Brunello di Montalcino, Uccelliera, Toscana
Bottle 925,-
2008 Barolo Riserva "Gabutti", Sordo Giovanni Piemonte
Bottle 795,-
2015 Vino Nobile di Montepulciano, La Braccesca, Antinori, Toscana
Bottle 495,-
2016 Tenuta Frescobaldi di Castiglioni, Toscana
Bottle 495,-
2018 Lagne Nebbiolo, G.D.Vajra, Piemonte
Bottle 495,-
2013 Matallana, Telmo Rodriguez, Ribera del Duero
Bottle 1295,-
2010 Rioja Gran Reserva "904", La Rioja Alta
Bottle 855,-
2016 La Montesa, Alvaro Palacios, Rioja
Bottle 385,-
2016 Columella Syrah/Mourvedre, The Sadie Family, Swartland, Sydafrika
Bottle 1395,-
2016 Cuvée Alyce Pinot Noir, Walter Hansel, Russian River Valley, USA
Bottle 945,-
2016 North Slope Pinot Noir, Walter Hansel, Russian River Valley, USA
Bottle 945,-
2016 Estate Pinot Noir, Walter Hansel, Russian River Valley, USA
Bottle 895,-
2016 Ridge Vineyards Geyserville Zinfandel, Sonoma County, USA
Bottle 795,-
2016 FEL Pinot Noir, Anderson Valley, Californien, USA
Bottle 750,-
2017 Pinot Noir Au Bon Climat, Santa Barbara County, Californien, USA
Bottle 545,-
2016 Sonoma County Zinfandel, Seghesio, USA
Bottle 495,-
Sød vin
2005 Vintage Port, Quinta dos Malvedos, Graham's, Douro, Portugal
Bottle 750,-
2017 Vintage Port, Churchill-Graham, Douro, Portugal
Bottle 995,-
2016 Vintage Port, Churchill-Graham, Douro, Portugal
Bottle 945,-
1982 Colheita Feuerheerd¨s, Douro, Portugal
Bottle 975,-
2015 Auslese Riesling "Fass 8", Seehof, Rheinhessen, Tyskland
Bottle 495,-
2015 Late Bottled Vintage Port, Churchill's, Douro, Portugal
Bottle 425,-